Responsive customer service
Ajile, plastic hardware and fasteners at home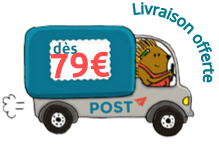 Silent Padded Ferrule Furniture Sock in Cobalt BLUE Reinforced Felt for 16 to 22 mm Diameter Chair Legs
 
Ajile, quincaillerie et visserie référence en France !
It is a Felt based Sock that fits on furniture feet / tubes with a diameter of 16 to 22 mm. It is the most advanced anti-noise system for chairs and furniture on the market. It provides 18 dB sound attenuation with magnificent softness and design! This "Cobalt Blue" version is special for "Intensive Use", it is suitable for all types of floors, even tiles with cement joints. The resistance tests carried out on Silent Socks (by the very official SP Technical Research Institute of Sweden) justify their price and confirm the high level of quality that has been advertised: o The test was stopped after 40 000 cycles (A chair loaded with 50 kg was drawn back and forth over a distance of 40 cm) Silent Socks were still intact. o The second best result in these wear tests was achieved by tennis balls : the rubber broke after 23,000 cycles. The Silent Sock chair shoe represents the ultimate protection for fragile floors such as parquet, plastic floor, waxed concrete, etc... Easy installation on metal legs, original pads can be left in place, machine washable at 30° C Silent Socks are lovingly made in Sweden, they are distributed and valued all over the world.
Silent Padded Ferrule Furniture Sock in Cobalt BLUE Reinforced Felt for 16 to 22 mm Diameter Chair Legs by the online hardware leader !
For the purchase of Silent Padded Ferrule Furniture Sock in Cobalt BLUE Reinforced Felt for 16 to 22 mm Diameter Chair Legs trust ajile.biz, screws & hardware online leader in Europe ! Thousands of references are present in our catalogue so that you can buy screws, nuts, bits, bolts, hooks and much more !
SILENT SOCKS - SO MUCH MORE THAN AN ORDINARY FURNITURE PAD Silent Padded Ferrule Furniture Sock in Cobalt BLUE Reinforced Felt for 16 to 22 mm Diameter Chair Legs With Silent Socks furniture pads chairs glide smoothly, which reduces scraping noise, scratched floors, stubborn stains and heavy lifting. Silent Socks also lessens the crashing sound that comes from chairs colliding with table legs etc. The inner rubber ball support makes sure Silents Socks stay securely in place. Silent Socks is a Swedish product designed for chairs with steel tube legs, which reduces noise levels by up to 18 dB compared to the chairs original pad. A noise reduction of only 8-10 dB is experienced as a 50 % reduction in noise level. FURNITURE PADS FOR FLOORS WITH JOINTS Silent Socks HD (Heavy Duty) are equipped with the same fine features as our original model, but are made exclusively for floors with detectable joints or seams, for example; ceramic tiles and stone floors, textured laminate flooring or older varnished parquet. These types of flooring are common in many public spaces, but also in a lot of private homes. Silent Socks HD are made of a mixture of synthetic material with a small touch of wool that is adapted to the hard wear of this type of flooring. Silent Socks HD work just as well on smooth floors, like linoleum and vinyl flooring. Just like your own socks, Silent Socks is a textile product that wears differently on different surfaces. But Silent Socks are also equally gentle to your floors as a pair of regular socks. EASY TO ASSEMBLE EASY TO CLEAN Silent Socks furniture pads are easily fitted to chairs with steel tube legs no tools required. Original pads should not be removed before putting on Silent Socks. Steel tube legs can keep internal as well as external plastic pads Silent Socks will still be securely fastened, thanks to their internal support. When Silent Socks gather dust start by vacuuming them. If they are still dirty, they can be easily washed. Remove Silent Socks as a whole, including the inner rubber part, and wash them in a washing machine using the Wool programme at 30-40 °C. Then, tumble until Silent Socks are dry. Place them somewhere airy and warm for a few hours before refitting.
Other products in the same category: Silent Felt Glide