Responsive customer service
Ajile, plastic hardware and fasteners at home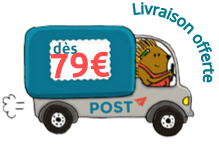 M8 diam. secure nut and bolt protection cap - WHITE
 
Ajile, quincaillerie et visserie référence en France !
Volume discounts
| Quantity | Price | You Save |
| --- | --- | --- |
| 12 | €0.60 | Up to €1.44 |
| 50 | €0.54 | Up to €9.00 |
Exterior diameter : 32 mm. | Total height when completely assembled : 14 mm.
WHAT IS IT FOR : to protect yourself and especially children (in playgrounds) from wounds caused by rusty bolt heads. It also protects the fasteners from humidity, corrosion, oxidization and weather; it can be dismantled if necessary. This cap is almost impenetrable unless you have the right tools. Be a perfectionist and give your surroundings an aesthetic and professional finish !
CHOICE, RANGE : this family of protective nut caps, is available in WHITE, BLUE or RED plastic (polypropylene). We also provide them in YELLOW, GREEN and BLACK. Do not hesitate to contact us in case you have a special request.
The plastic bolt head protection caps are also available for M6 (6 mm), M10 (10 mm) and M12 (12 mm) fasteners.
This WHITE plastic protective nut cap perfectly adapts to 8 mm bolts, i.e. M8 metric screw thread.
USAGE : Efficient and easy to use : once the fastener sits firmly on the base, insert the cap onto the base. It cannot be dismantled without the use of tools.
Scroll down for a look at our special volume discount rates and other product characteristics and recommendations.
M8 diam. secure nut and bolt protection cap - WHITE by the online hardware leader !
For the purchase of M8 diam. secure nut and bolt protection cap - WHITE trust ajile.biz, screws & hardware online leader in Europe ! Thousands of references are present in our catalogue so that you can buy screws, nuts, bits, bolts, hooks and much more !
M8 diam. secure nut and bolt protection cap - WHITE
WARNING : carefully clean and dry the surface of the screw before fixing the plastic cap. A tiny amount of grease can protect against rust and prolong the life of the metal fastener.
Once the cap is firmly placed onto the base, the fastener becomes untouchable. You'll have to damage the protective cap to expose the screw/bolt head. The plastic screw/bolt cap is specially designed to create a safe environment for children.
MORE IN DETAIL : this product is made from WHITE plastic ; it consists of a base and a protective cap.
Made for 8 mm, M8 screw/bolt heads.
This high-quality plastic cap conceals unsightly screw heads and is available in various colours. It is most often found in outdoor play-areas and in schools.
They are also used as bumpers (doors, windows, cabinets) or as decorative furniture feet.
Its uses are numerous : railings, veranda, machines, tools, fasteners found on exterior walls, kitchen furniture, shelves, sailing, caravans, trailers, cars, construction and many, many more.
ADVANTAGES : fine, aesthetic finish. Apart from its decorative characteristics, this plastic cap for screw / bolt heads prevents wounds cause by sharp rusty edges.
Furthermore, at Ajile.biz, we cater to your every need. We undertake individual and bulk orders and offer advantageous volume discounts. We ship immediately, anywhere in the world, after reception of payment from our headquarters in Strasbourg.
You need more proof of our efficiency in the world of online hardware stores? Have a look at our ratings on "Avis Vérifiés". There must be a reason why the aficionados of Ajile gave us a 4.9 out of 5 !
Your hardware store at home… This is Ajile.biz!
Other products in the same category: Secure Nut Cap White