Responsive customer service
Ajile, plastic hardware and fasteners at home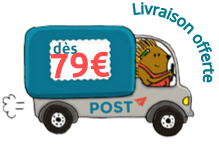 Diam. 6 mm screw hinged snap cover cap - WHITE
 
Ajile, quincaillerie et visserie référence en France !
Volume discounts
| Quantity | Price | You Save |
| --- | --- | --- |
| 12 | €0.42 | Up to €1.44 |
| 50 | €0.36 | Up to €9.00 |
d = 6 mm | D = 18.4 mm | H = 6.5 mm
WHAT IS IT FOR : to hide (harmoniously) that one screw that always stands out : the nylon hinged screw cover is the perfect solution to cover those ugly screws. It also protects the fasteners from humidity, corrosion, oxydisation and weather. Be a perfectionist and give your surroundings an aesthetic and professional finish !
CHOICE, RANGE : these hinged snap-caps are available in BLACK or WHITE. We undertake, "on demand", requests in other colours; do not hesitate to contact us if you have any special requests.
The hinged plastic screw cover caps are available in 3 - 4 mm, 5 mm, or 8 – 10 mm diameters.
This WHITE screw hinged cover-cap perfectly adapts to 6 mm diameter screws.
USAGE : insert screw in the polyamide hinged screw cover-cap, fasten and close the lid. It does not get easier than this!
Scroll down for a look at our special volume discount rates and other product characteristics and recommendations.
Diam. 6 mm screw hinged snap cover cap - WHITE by the online hardware leader !
For the purchase of Diam. 6 mm screw hinged snap cover cap - WHITE trust ajile.biz, screws & hardware online leader in Europe ! Thousands of references are present in our catalogue so that you can buy screws, nuts, bits, bolts, hooks and much more !
Diam. 6 mm screw hinged snap cover cap - WHITE

WARNING : carefully clean and dry the surface of the screw before fixing the plastic screw cover cap. A tiny amount of grease can protect against rust and prolong the life of the screw. This can be useful when used on surfaces of camping cars, boats or trailers.
MORE IN DETAIL : this product is made from WHITE polyamide (NYLON), a material that is much more resistant than polyethylene; it is manufactured in France.
Made for 6 mm screws (wood or metal). See drawing for more information.
Its uses are numerous : railings, veranda, machines, tools, fasteners found on exterior walls, kitchen furniture, shelves, sailing, caravans, trailers, cars, construction and many, many more.
ADVANTAGES : fine, grainy, aesthetic finish. Apart from its decorative characteristics, this plastic snap cap for screws protects against rusty screw-heads to avoid nasty, infected wounds.
Furthermore, at Ajile.biz, we cater to your every need. We undertake individual and bulk orders and offer advantageous volume discounts. We ship immediately, anywhere in the world, after reception of payment from our headquarters in Strasbourg.
You need more proof of our efficiency in the world of online hardware stores? Have a look at our ratings on "Avis Vérifiés". There must be a reason why the aficionados of Ajile gave us a 4.9 out of 5 !
Your hardware store at home… This is Ajile.biz!
Other products in the same category: Hinged Snap Cover Cap WHITE